Art Preservation Houston – Art Conservation Houston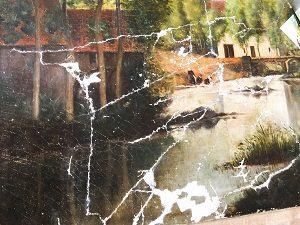 Art Conservation Houston – Art Preservation Houston
As an art conservation and art preservation expert in Houston, Maris Salmins loves his work. Art is his passion. His passion is the art conservation and art preservation of oil paintings through restoration. His skill in oil painting restoration brings new life back to old, damaged oil paintings that have been left to the effects of time and human negligence.
Maris is an expert at oil painting art conservation, preservation and restoration based in Houston, Texas. With his dedication, gentle hands and expertise, his oil painting restoration services in Houston will improve the oil painting's value and restore its original beauty.
Conservation, Preservation, Restoration Go Hand in Hand
As an artist, Maris is a professional who embraces the artistic challenges of restoring fine oil paintings with passion, commitment and dedication. He expertly blends art with science, so that heritages and legacies captured in oil painting will be preserved for generations to come.
With Maris's integrity, reputation, work ethic, he will bring life back to your oil paintings that have been through the ravages of time.
Is your oil painting dirty?

Does your oil painting have smoke/nicotine damage?

Does it have water damage?

Is your oil painting canvas torn, blotched?

Does your oil painting frame need restored?

Or does your oil painting canvas have other signs of damage?
To conserve and preserve your oil painting, the process may include cleaning, damage repair, canvas reshaping, and frame repair. It could even involve removing old, less professional restoration efforts. Maris is highly trained and experienced in providing the best method and environment for the restoration of your oil painting. He expertly applies his knowledge and passion to the restoring and conserving of antique (and not so antique) fine art oil paintings and fine art frames.
Now is the Time to Conserve Your Family's Art History
Future generations shouldn't be deprived of knowing your family's story through oil paintings just because the paintings have been through some rough times. (Like being in the attic or garage for the past 30 years?) And while you might be thinking about price, Life on the Wall, oil painting restoration in Houston, isn't the least expensive, but neither are we out of reason for the quality and integrity of work that is received. Video Testimony
Contact Maris today.  He treats each oil painting as his own. He is your expert in fine art oil painting restoration, conservation and preservation in Houston.
713-984-0278 or info@lifeonthewall.net