Repair Painting Houston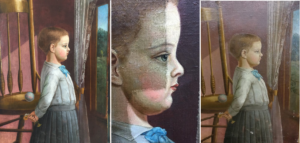 My client had a painting that was priceless. It was painted by his great great grandmother. The subject was his great grandfather. It was painted in the 1880's.
He wanted a frame from the same period as his painting which was very dirty from smoke, old varnish and normal aging. It also had a small hole. A previous unskilled restorer had varnished the painting without cleaning the painting and without removing the previous varnish.
He loved the frame and he liked the way that I "blended the colors" (in-painted) where the hole had been. He mentioned how he could now see the colors more clearly on the ball and he really liked how the window portion turned out and had not ever realized that the shadow by the chair existed. He also was never able to make out the numbers by the signature which was an indication of when the painting was painted.
I am happy that he told me the frame that I chose for him was great.
My client was very pleased and I was thrilled to be able to be a part of such an artistic heritage.